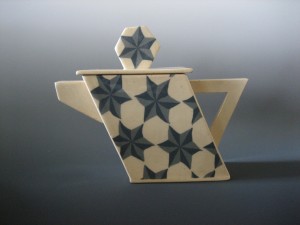 After three decades as a chef/restaurateur, during which time he designed and built Middlebrook Restaurant and the Tip Top Café, John Quimby found the medium of clay. He was drawn to a specific branch of ceramics known as NERIKOMI, a Japanese term meaning "hand-building with colored clay."


Hand­building encompasses virtually all the techniques used to form clay (rolling and forming slabs, coiling, pinching and sculpting) except throwing clay on the potters' wheel and slip casting. Rather than using glazes to decorate the surface of a form, clay in various natural colors and clay that has been stained with mineral colorants are layered together and manipulated to create patterns within the clay itself. The result is a block of moist clay with an embedded pattern, from which slices can be removed and utilized to form a vessel.

John has other work at Long River Gallery in Lyme, and at EarthStar Gallery in North Hartland, Vermont, where he also teaches. He lives in Lyme.