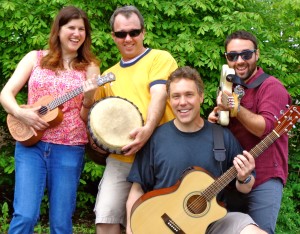 It has been a great summer of reading adventures and more! Please join us for a special wrap-up party at the Lyme School Playground on Tuesday evening, August 30th, beginning at 5 p.m. Steve Blunt & Friends will entertain us with their high-energy library show of catchy tunes, lively rhythms, and lots of silliness!
We encourage families and folks of all ages to bring a picnic supper and a blanket or chairs. Also, if your child has not yet turned in his or her reading record, please bring it with you. We'll have prizes to give away to everyone who has met their reading goals and/or completed an activity log. We'll even grant prizes for oral reports of books read!
Toward the end of the show, the Lyme School Board will join us for the annual Ice Cream Social.What a great way to end the summer and kick off another great school year!
Many thanks to the Friends of Lyme Library for underwriting the 2016 Summer Reading Program.
Click on the photo for more information about our friend Steve!