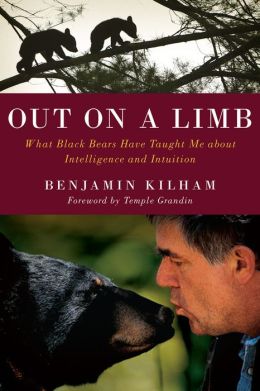 Please join us for a special evening celebrating the release of Ben Kilham's new book, Out on a Limb: What Black Bears Have Taught Me about Intelligence and Intuition.
"Like Jane Goodall's studies of chimps, Ben Kilham's work with black bears is more than just revealing: it's revolutionary. This riveting book supports two astonishing conclusions: that bears are far more sophisticated than most scientists dared imagine, and that dyslexia, once considered a failing, may simply be another, and often valuable, way of thinking. Ben's work will transform our understanding of how animals live–and how science should be done."–Sy Montgomery, author of Walking with the Great Apes and Search for the Golden Moon Bear
"Ben Kilham's Out On A Limb is surely the most insightful book about animals written in the last 100 years. His observation of black bears is the best ever done, his data is flawless, and these attributes have created a landmark of science that as far as I know has not been equalled with any other species. And if that's not enough, it's also a page-turner and a must-read. It left me breathless."–Elizabeth Marshall Thomas, author of The Hidden Life of Dogs and The Tribe of Tiger
Ben Kilham has been researching and living with black bears for nearly twenty years. He has become an expert in black bear behavior, as well as in rehabilitating orphaned and injured bears and reintroducing them to the wild. He is invited to lecture all over the United States and internationally. His previous book is Among the Bears: Raising Orphan Cubs in the Wild. Kilham and his work with black bears have been featured in five internationally televised documentaries, including National Geographic and Discovery Channel features, and he has appeared on The Today Show, Good Morning America, ABC Nightly News, ABC Nightly News International, The O'Reilly Factor, Fox News Daytime Edition, Inside Edition, The David Letterman Show, NBC Nightline, CBS Coast to Coast, Canadian Broadcasting Company Nightly News, and various other shows, as well as National Public Radio, and a host of nationally broadcast radio shows. He lives in Lyme, New Hampshire.
This event will take place on Tuesday, December 10, at 7 p.m., inthe Lyme School cafeteria. Copies of the book will be available for sale and signing. Refreshments will be served. Sponsored by the Friends of Lyme Library.