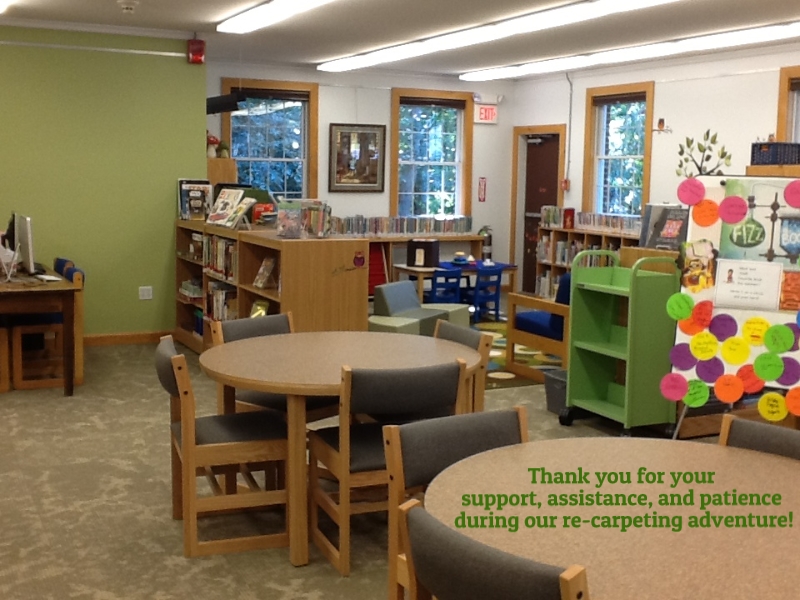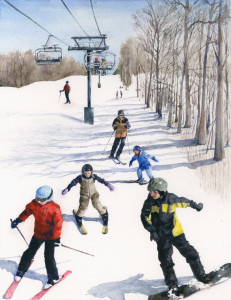 An illustrator who recently graduated with a dual degree in Illustration and Art History from Massachusetts College of Art and Design, Molly Mundy spends her time continually finding reasons to be outside, cooking soup, and, of course, painting. She loves light and pattern, and draws inspiration in her work from her childhood in Lyme.
The show runs through October 30.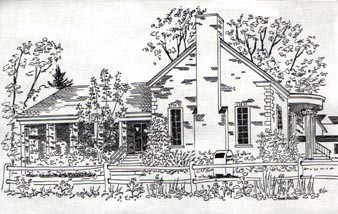 Dear Lyme,
On behalf of the Board of Trustees, we would like to thank the 184 participants who completed the Library Community Survey. For your consideration, we present the results, as analyzed by Dan Lynch and Judy Russell. Please feel free to contact us with your comments. Following the statistical report and a discussion of a recent Pew national survey on library perceptions, see my summary based on the numbers and follow-up conversations with the Board.
Thank you for your patronage and stewardship of the Converse Free Library. And huge thank-yous to our volunteers and the Friends of Lyme Library, who add layers of significance and community pride to everything we do.
Of the 184 respondents, 91% are current, active users. Only two were 18 or younger.
In what capacity do you use the library? (Respondents answered as many as applied.)
-93% borrowing books
-60% borrowing videos
-49% borrowing audio books
-22% borrowing magazines and newspapers
-23% place for adults to study and/or work
-20% as Lyme School Library
-16% place for children to do homework
-31% use of computers/Internet
-25% copying/printing/faxing
-48% attending programs
-30% community meeting place
Reasons for not using the library:
-77% have good Internet at home
-51% no children in school
-37% purchase and download e-books and audios on e-readers
-35% buy print books at bookstores or online
-23% hours don't work
What role do you see the library playing in town? (each ranked on a scale of 0-4, 4 being essential)
-a place to borrow books, audios, movies, and do research: 3.69
-school library focused on the academic needs of the K-8 children: 3.31
-a technology center providing the latest devices for reading, listening, and Internet use: 2.87
-a community center for meeting neighbors and sharing ideas: 2.82
-an after-school resource for younger children of working parents, and older, independent children: 2.72
-an adult learning center: 2.71
How can the library be most useful to our community over the next three to five years? (optional written question)
-continue what you are doing — no major changes needed (41 respondents)
-stay on cutting edge of technology (14)
-increase hours on weekends (13)
-community meeting place (5)
-increase programming for children (5)
– more learning opportunities for adults (5)
Other topics garnering one or two mentions:
-after-school use of the library-rising costs and tax rates
-provide adult work space
-more audio books
-more board games
-connecting with other libraries
-a tool library?
-displays on staff recommended books/audios/DVDs
-more reminders on events and services
-connecting with other libraries
Coincidentally, the Pew Research Center just completed their own survey underwritten by the Bill and Melinda Gates Foundation entitled "Library Services in the Digital Age." Here are a few of their key findings based on interviews with 2,252 Americans 16 or older, and 2,000 librarians and library staff members:
The BIG picture
-80% said borrowing books is a very important service that libraries provide
-77% said free access to computers and the Internet is very important
-consistent with our own findings that while libraries have evolved into technology centers, traditional services remain equally important
Public priorities for libraries
-85% said coordinating more closely with public schools
-82% said offering free literacy programs to help young children
-59% said having more comfortable spaces for reading, working, and relaxing
-53% said offering a broader selection of eBooks
Notable share of Americans would embrace even wider use of technology
-on-line service to allow patrons to pose questions to and get answers from library staff
-apps-based access to library materials and programs
-access to technology "petting zoo" to try out new devices
-RedBox model of lending kiosks
-Amazon-style customized book/audio/video recommendations
Librarians noted following as having most interest amongst their patrons:
-classes on e-borrowing
-classes on how to use hand-held devices
-on-line "ask a librarian" service
Information disconnect
-91% of respondents said public libraries are important to their community
-76% said public libraries are important to themselves and their families
-and yet just 22% said they know all or most of the services their local library offers
In meetings following the reporting of the results, the Trustees discussed the outcomes of the Library Community Survey. They were delighted to learn of the general approval of the library as a service institution providing information, programming, and a welcoming space to citizens of Lyme and beyond. While overall satisfaction was the predominating result of the survey, the Trustees felt that discussion of two specific issues raised by the results warranted further discussion: expanded weekend hours and after-school activities at the library.
Lyme Library Weekend Hours
At the request of the Trustees, Judy conducted a poll of Upper Valley libraries regarding their weekend hours and found that the majority have hours similar to ours (approximately 9 a.m. to noon on Saturdays), but a few have extended hours. For these few, one of two situations exists: a greater number of staff, or a smaller library run on weekends by volunteers (i.e., not automated and/or not offering the range of professional services and support we do). For now, we have decided to retain our current hours (and high-quality services), but may consider the possibility of extending weekend hours should our staffing situation change in the future.
After-School Activities
The library is a popular after-school destination—and we like it that way! Children of all ages come here to do homework, check out materials, play computer games, and visit with friends. They stop off here between school and sports practice or before being picked up by their caregivers. Inarguably, the library becomes a pretty lively place after 3 p.m., and we understand that for some users that can be a problem. We also recognize that some adults would prefer that the kids be using their time less on the computer and more with books. We appreciate that perspective, but as a public library (we cease to be a combination public-school library after 3 p.m.), we support any patron's pursuit of information and entertainment in any format, regardless of age, and we endeavor to provide activity spaces with a variety of uses (including the downstairs areas which can be quieter at this time of day). While Lyme has many outstanding readers of youth literature, it also has children of impressive computer aptitude. The staff, volunteers, and I never cease to be amazed by the breadth of technological knowledge these kids have–and the amazing skills, which will become increasingly useful as we move forward in this digital age.
Our mission states, in part, "In a welcoming environment, the Library provides services and resources that encourage learning, stimulate curiosity, and invite the sharing of ideas." We are always open to new ways of accomplishing this and welcome your suggestions, and your financial support for new initiatives. Please stop in sometime, even after three p.m., to share your thoughts and ideas, and to observe what a happening place your local library is!
Again, our heartfelt thanks for your participation in the survey and for reading this overview. We appreciate the high marks you've given us and we will strive to earn your continued respect and patronage.
Judith G. Russell, Library Director
Daniel T. Lynch, Chair, Strategic Planning, Board of Trustees
on behalf of the Converse Free Library Board of Trustees