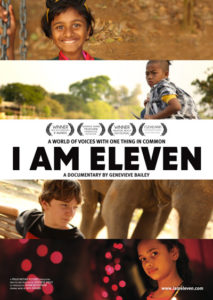 Do you remember when you were 11?
Australian filmmaker Genevieve Bailey traveled the world for six years talking with 11-year-olds to compose this insightful, funny and moving documentary portrait of childhood. From an orphanage in India, to a single-parent household in inner-city Melbourne, to bathing with elephants in Thailand, I AM ELEVEN explores the lives and thoughts of children from 15 countries. I AM ELEVEN weaves together deeply personal and at times hilarious portraits of what it means to sit at this transitional age. These young minds provide us with a powerful insight into the future of our world.
Join us for this fourth film in our Documentary Film Series, co-sponsored by the Lyme Collaborative and Friends of Lyme Library.
Genevieve Bailey will join us via Skype to introduce the film at 7 p.m.! Please arrive before 7 to accomodate her busy schedule.