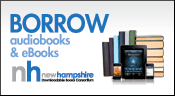 "Downloadables" means digitized books you read or an audiobook you listen to on a handheld device, a tablet, a laptop or a desktop computer. Our library belongs to the New Hampshire Downloadable Book Consortium. Using a password, Lyme Library patrons can download eBooks to an eReader (e.g., Kindle, Nook, or a tablet with eReader apps), or audiobooks to an audio device or smart phone (e.g., iPhone, iPod, Android and most mp3 players).
There are over 17,000 titles in the NHDB eAudio and eBook collections. Titles are added to both collections monthly. As of 2015, NHDB is also offering digital magazines, easily dowloaded to a Nook or Nook app. For more information, click HERE.
A patron registration number is necessary to download from these collections. Call or visit the library to get yours. Take a look at the consortium's website and do the guided tour there. There is much more detailed information at the New Hampshire Downloadable Books blog. Your library staff is always happy to help, too. Downloadables mean no more scratched CDs and no more heavy books to haul on vacation!
The library also has MP3 players for patrons to borrow to experiment with the downloadable audiobooks and Kindle and Nook eReaders to borrow as well.
The Friends of Lyme Library have provided the funds for this program.