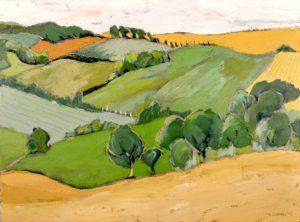 Landscapes: Lyme and Tuscany, a Friends of Lyme Library Art Show by Greg Gorman, continues to December 29, 2017.
"In my travels, I have noticed very strong similarities in how we all, in diverse places, arrange our landscapes. The rural landscape provides several pleasures for me. I am fascinated by the way humans shape it to suit their needs, often creating an unintentional geometry with arrangements of fields, walls, trees and structures. One of my favorite times is at haying, with lines of cut grass drawing a contour of a field, or scattered bales of hay awaiting their pick-up. This exhibit celebrates the similarities and contrasts between rural Lyme and Tuscany." -Greg Gorman
10% of any sales will be donated to the Friends of Lyme Library.