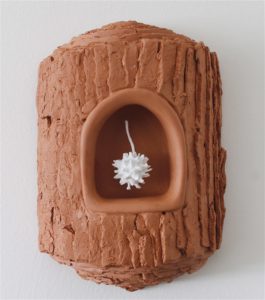 FRIENDS OF LYME LIBRARY
ART SHOW
RECENT EXPLORATIONS IN CLAY
Amanda Ann Palmer
January 2 to March 30, 2018
The versatility of clay is what first drew me in. The span of expressive possibilities from a fine porcelain tea set to the terracotta warriors gave me permission to indulge in a range of styles and techniques.
In my wheel-thrown work I explore the shapes and tactility of rural industry. Rusty remnants of farm tools and machinery appeal to me; I love to envision these shapes with a new purpose and dignity.
In my 'Relics' series I pay homage to the seed pod. These humble reliquaries house the possibility to alter the landscape immensely. –Amanda Ann Palmer
10% of any sales will be donated to the Friends of Lyme Library.