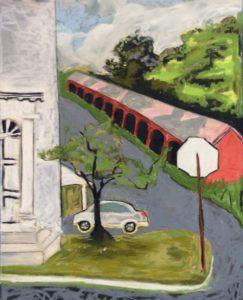 Odanaksis, the Abenaki term for "little village," is an informal group who come together on Thursday mornings at different outdoor painting venues. Founded 14 years ago by four students in local watercolor classes, the painters found inspiration for their homework practice at a spot just north of the East Thetford/Lyme Bridge on River Road in Lyme, New Hampshire. This show gives the viewer the sense of the place in different parts of Lyme and other places in the Upper Valley through Odanaksis artists' eyes and different mediums. This past year Odanaksis Art Group painted Thursdays year-round from Newbury, Vermont to Cornish, New Hampshire along the Connecticut River.
Artists: Anne Rose, Jonathan Rose, Anne Webster Grant, Gail M Barton, Helen Elder, Susan Rump, Linda Laundry, Jo Tate, Becky Cook, Karen Chalom, Rebecca Bense, Le Lieu Brown.
The show will run through September 30, 2017. Ten per cent (10%) of any sales will be donated to the Friends of Lyme Library.